I've always had a special place in my heart for audacious projects. I love stepping outside the box and taking risks. The Walt Disney Company is built on such an attitude and I almost consider it part of the Disney culture. If you know anything about the Old Maestro Walt Disney, you'll realize he was a pretty audacious guy himself.
The year was 1994 and Disney was on a roll. "The Lion King" had opened that summer to lavish reviews and a sizable box office. It would seem Disney could do no wrong. A few years earlier, two young directors had also scored big with their hit film, "Beauty and the Beast," which garnered two Academy Awards. Lucky for me, I knew these guys. Kirk Wise and Gary Trousdale had a new motion picture in development and I'll admit I was shocked when I learned what they had chosen. The two directors had decided to bring an animated musical adaptation of Victor Hugo's novel, "The Hunchback of Notre Dame" to the screen. As I said, I was shocked — but in a good way. This was a truly audacious idea and I wondered if the talented artists and writers at Disney could even pull it off.
Over the years, my life has taken unexpected turns — usually for the better. It was propitious that my job at Disney Consumer Products had come to a close and I became available to join the development team on "The Hunchback of Notre Dame" in nearby Glendale. However, development does not a motion picture make, and there was no guarantee the new film would ever move into production.
In the fall of 1994, we gathered in a large Glendale story room to pitch the rather risky idea to a distinguished group of Disney managers. Attending the meeting were Tom Schumacher, Peter Schneider, Roy Edward Disney, Jeffrey Katzenberg, and Disney CEO, Michael Eisner. Overall, the pitch went well until we moved to a very provocative sequence where Claude Frollo struggles with his conflicting contempt and desire for the gypsy girl, Esmeralda. Composer Alan Menkin and lyricist Steven Schwartz brilliantly performed the musical number "Hell Fire." When the song came to a close, many in the room were clearly nervous. In a very real way we could almost feel the heat. Was this supposed to be a Disney movie, we wondered?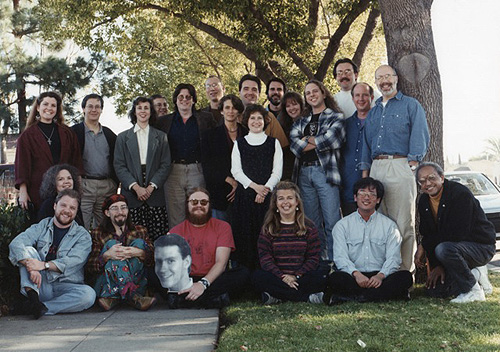 Animators, writers, and the entire creative team behind "The Hunchback of Notre Dame."
However, our fears were unwarranted. Not long after our meeting, we were given a green light and production began to move forward. Our little crew moved north to a larger facility we renamed "Sanctuary" in honor of the Victor Hugo novel. Since most of the Disney staffers were busy on "Pocahontas," we beefed up our staff with talented young artists from Canada and the U.K. I honestly think we benefited from the young men and woman who were new to Disney animation. They provided a unique artistic sensibility that seemed to be a perfect fit for the animated movie.
As the film moved through production, some sequences went through multiple incarnations as we tried to hit the right note. After several versions, we finally crafted a solid prologue to the film, which remains one of my favorite introductions to this day. In other instances, some sequences failed to resonate. A romantic song between the handsome soldier Phoebus and Esmeralda just didn't work and it had to be excised from the film. Such is the nature of creating an animated Disney motion picture.
A year or so later, we took our nearly completed motion picture on the road. The studio arranged a sneak preview in front of a test audience in nearby Pasadena. When I arrived at the theater I noticed the audience consisted of young adults and teenagers. Hardly the easiest demographic as this age group is usually a tough crowd in anybody's business.
Good fortune was on our side because the credit roll brought loud applause from our young audience. We had accomplished our goal and could finally breathe a sigh of relief. I credit our talented directors, Kirk Wise and Gary Trousdale, and our story team — including the wonderful Brenda Chapman, Kevin Harkey, and Will Finn. Of course, the stunning art direction of David Goetz gave the famous cathedral a life all its own. "The Hunchback of Notre Dame" is hardly the conventional Disney classic animated film. Yet, from the beginning, the movie was always a challenge. Although we may not have matched the numbers and reviews received by "The Lion King", we created a darn good movie.
Posted 10 years Ago