Among an assortment of cool bonus goodies from Disney's Lady and the Tramp,  Diane Disney Miller (yes, Walt's eldest daughter!) gives fans a rare, videotaped glimpse into her father's personal life. But the Insider wanted to hear first-hand what it was really like growing up Disney and went straight to the source. We were honored to chat with Diane recently and learn more about Walt's famed apartment, his favorite desert getaway, and the legacy she guards so fondly. Here's what Diane had to say about …
The Disneyland Apartment
The apartment was their place — Mother, Dad. Dad practically lived there in the early years. They'd go down often during the day when it [Disneyland] was being built. For a while, they went down there every weekend. It was such a cozy, charming place, as you know. Emile Kuri — he was the set designer who worked on "20,000 Leagues Under the Sea" — helped them decorate it with all their collections.
Mother and Dad both loved the Victorian Period, although we didn't live in a Victorian setting. It was a very comfortable home — this was where they could collect little pieces of Victoriana from antique shops as they travelled around the country. You know my dad loved going into shops like that, collecting miniatures, and Mother would buy her little treasures.
Dad was always interested in mechanical toys and collected music boxes that went in that apartment. Everything he bought had a purpose — if it wasn't for our home, it was for the Studio or the Company, but it always had some purpose. The apartment was just a charming place to be with my family. Only very special people would visit because it was their home, their private refuge. My kids spent a couple of nights with Dad out there when they were small — it was fun, just wonderful.
"Daddy's Day"
When my sister and I were small, Dad would pick us up every Sunday after Sunday school and we'd go somewhere — to Griffith Park, ride the merry-go-round, go to the zoo — and then on to the Studio. Saturday or Sunday was what he called "Daddy's Day." He loved to wander through the Studio when no one was there. He'd go to all the animators' rooms to look at their drawing boards and see what they were working on while we roamed around.
My sister and I would run all over the place, riding up and down in the elevators, which were a new thing back then — an elevator you could operate yourself was very new and exciting in the late 1930s-early 1940s! We learned to ride bikes on that lot, learned to drive our cars in the parking lot — that's all part of the ancient history. But he was always Dad.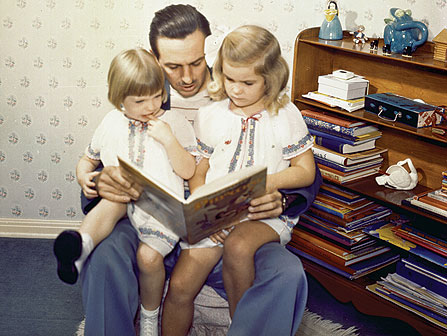 Walt reads to daughters Diane and Sharon.
Disney Magic
When I was a child, he [Walt] was just a maker of films. TV came when I was a teenager; I was in my late teens. The first show I remember aired with Edgar Bergen; it was a Christmas show … I was about 14. Then it all evolved. People recognized him everywhere we went. But you know, he always talked about doing all these things, so when he finally did them, it wasn't a surprise, I guess.
We were far removed from the animation process as kids. I knew nothing about animation … I've learned it all since then by reading about it. The Studio was where we played when we were children. For a short time, my sister worked there for my cousin, who was doing commercials — that was in the mid 1950s. I really know very little about 'how the magic was created.'
"Lady and the Tramp"
In 1955, Dad had become a grandfather, "Lady and the Tramp" was about to be released, the Park [Disneyland] had just opened — it was a busy, exciting time for him. I was [living] up in Monterey, California, and my husband was in the army. So much was going on … it was really thrilling.
Walt and His Grandchildren
Dad took them to the Park a lot — often they'd spend the night. I say often, but my daughter corrected me and said, "Mom, it was only two or three times!" It seemed like a lot — Mother and Dad babysat for us. If I had a chance to go on a location survey trip with Ron to Paris, London, or wherever, they'd watch the kids. They really enjoyed that. In the summer when the weather was good, Dad would sit in the yard reading scripts — he was always reading scripts, books on how to build things, or anything related to what he was currently doing. The kids would play out there — they'd play all around him. One time I looked out and they were building a tower of lightweight aluminum furniture over him as he sat in his chair! But he seemed to enjoy having them all around him, he really did.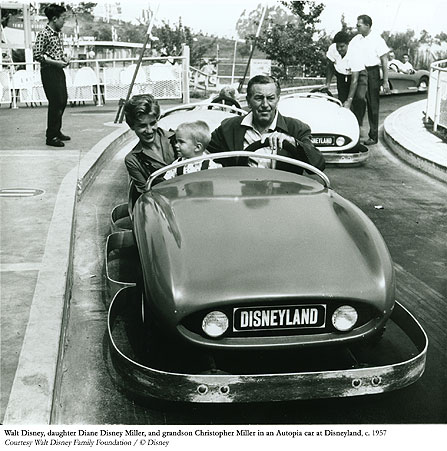 Walt's Favorite Getaway, Smoke Tree Ranch
That was the only place we went for vacations because Dad loved the desert air — he liked the whole cowboy theme. It was very casual, very relaxed — he liked that a lot. You know, for dinner everything was at communal tables, so the gong would ring for dinner and everyone would file down to the dining room and line up. From the first time you went there, you received a clothespin with your name engraved on it. I remember mine because I had just learned to write script and inscribed it with a little "Diane Disney" — it was my clothespin for years, for the whole time I went there.
Dad was not elitist; he was a comfortable guy who liked the company of others, so it was his kind of place. We loved the horses, riding bicycles, my sister and I, it was a great place to ride bikes. The first thing we'd do when we'd get to Palm Springs was rent bikes because we always drove down in a station wagon. So we'd ride our bikes everywhere, which was heaven, ride them down to the stables, get on a horse, and go out in the desert. That was great fun for us.
We were really excited for the first house — I went there with a girlfriend, I think Ron and Mother were there too. But he sold that to finance Disneyland. The second home was quite lovely — contemporary and very colorful. We had a little swimming pool. For a long time they didn't permit colonists — that's what they called people who owned the homes — to install swimming pools. The cottages were white, with blue shutters and doors. It was very low-key; the big deal was riding bikes everywhere and horses. My sister and I were just crazy about horses. I remember one vacation where we rode these black and white ponies bareback all over that desert! It was just fabulous.
Dad loved the breakfast rides up into those canyons with Johnny Boyle, the singing cowboy. That song in the Country Bear Jamboree was one of his popular songs … Dad was very inspired by him. The Country Bear Jamboree is all about the singing cowboy. I still have friends who have homes at the ranch.
Horses
I was only a baby when Dad played polo. Both of us rode out of the stable that was right at the corner of Griffith Park [Los Angeles] — the same stables where Dad used to keep some of his polo horses at times — on Los Feliz Boulevard where the fountains are. There was a riding stable there called DuBrock's — that's part of Dad's history. Later on we rode out of the stable was across the river — Matson's — and it was a wonderful place to ride out of. We loved our horses … don't all girls love their horses?
The Parks
Dad always talked about having his own amusement park … even back in his twenties. He'd be thrilled to see how everything's evolved. He loved the Audio-Animatronics. … and Tomorrowland too. I haven't been to all the Parks, but have seen Tokyo Disneyland, Tokyo DisneySea, and, of course, Disneyland and Walt Disney World. At the time of Dad's death, that was already in the works, already planned out. He always moved forward, I think he'd find it pretty exciting. The Tokyo Park is really beautiful, especially Tokyo DisneySea — it's an ocean within the Theme Park.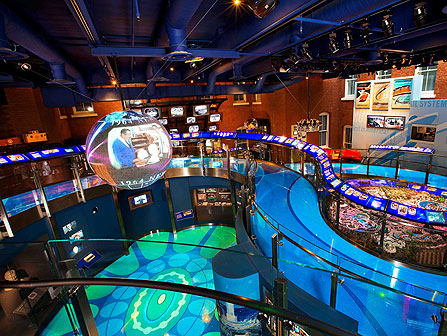 Gallery 9 at The Walt Disney Family Museum"Disneyland & Beyond"
The Walt Disney Family Museum
We're working on a new exhibit that opens in November [2012] to celebrate the 75th anniversary of "Snow White" … that's very exciting to us. We keep finding acquisitions that are exciting — it's really a big thing. It's always challenging to keep the museum vital. We've had a lot of good comments on it and needed more outreach … I'm very delighted the Company's helping us with that.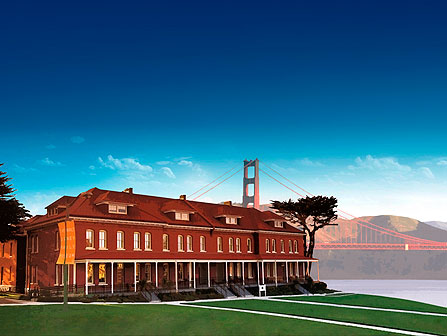 The Walt Disney Family Museum at the Presidio of San Francisco
I'm not a collector of anything, but we had to establish a good collection for our museum, anything that we can get our hands on, frankly. Our focus is really on the personal art, the storyboards, the conceptual art, the art from which the films were made. And we're able to run all the films on an ongoing basis in our beautiful little theater. The [Disneyland] Park model was built in San Rafael … they're [the model makers] constantly watching over it and making sure everything's perfect. It's quite a popular thing … it really gets everyone.
Napa Valley
We were looking for a new family investment. Mother and I flew up and back in one day. I came up here and never wanted to go home. It was a natural spot to go when Ron was no longer at the Studio, because we had the winery by that time. It was a very good thing. I never want to leave. An apartment in the city, for practical reasons, but we're always here in Napa!
Most-Asked Question
That would have to be "What's your favorite Character or favorite film?" I don't know. I was recently speaking with someone and we agreed on one thing. When you see one [film], you think oh, that's my favorite. Then you'll see another and for some reason think oh no, that's really my favorite! I don't have a favorite.
NOTE: The Walt Disney Family Museum is located at the Presidio of San Francisco, California. Check out the current calendar of exhibits, film presentations, classes, live performances, visitor presentations, and other happenings to plan your next visit!
Posted 6 years Ago