For many lovers of Disney, trips to the Theme Parks and repeated viewings of classic films make them want to get closer to the man behind all the magic. What influenced Walt Disney? And what places did he love?
Recently, Disney aficionados had two once-in-a-lifetime chances to walk where Walt once did, and see the places that inspired him. Official Disney Fan Club D23 hosted Member events at two iconic locations in Walt Disney's life – Palm Springs' Smoke Tree Ranch, where he owned a family vacation home and spent many happy hours, and Marceline, Missouri, where he spent a great deal of his childhood. Unique opportunities like these are just a few of the benefits D23 Members enjoy.
Miss the trips – or want to relive the details? The Insider has the scoop for you.
Smoke Tree Ranch
Tucked away off a main thoroughfare in Palm Springs, California, is an otherworldly retreat where families return year after year to enjoy the peace and beauty of the desert. And for decades, one of those families was the Disneys. Walt and Lillian owned two custom-built vacation homes at the resort over the years – the first, which was sold to help finance the creation of Disneyland, was replaced a few years later by a lovely modernist house with a relaxing pool and firepit. The second home is encircled by a concrete-paved path that Walt, ever the train lover, had built so his grandchildren could play "railroad" on their trikes and bikes.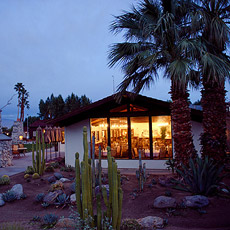 On January 23 through 25, 2012, D23 Members gathered at Smoke Tree to meet Disney luminaries – including songwriter Richard Sherman, Disney Archivist emeritus Dave Smith, and a galaxy of Disney voice talent – as well as explore Walt's beloved getaway. Highlights included visits to both of Walt's homes, dinner in the main lodge where the Disney family gathered with fellow resort guests for meals and entertainment, an up-close and enchanting evening at the piano with Richard Sherman, a campfire gathering with s'mores and stories about Walt, and an alfresco breakfast in Palm Spring's nearby Indian Canyons.
Walt is very much present at Smoke Tree – black-and-white photos of the Disney family at rest and play are prominent in many of the resort's public spaces. It was a rare look at the place where a man of almost super-human energy came to relax and get reinvigorated for new creative endeavors.
Marceline, Missouri
Walt Disney Archivist Steven Vagnini was along for what might have been the ultimate Disney Fan experience – D23's trip to Walt's boyhood home, Marceline. Although born in Chicago, Walt spent most of his formative years here. "This was an amazing experience for our Members. Walt Disney spent roughly a quarter of his life in Missouri, and returning to the hometown that inspired him was really magical. From walking down the street that inspired Disneyland Park's Main Street U.S.A. to visiting Walt Disney Elementary School and the recreated Disney barn, the whole place was infused with this feeling of family and community. It was incredibly moving to see Marceline residents' Disney pictures, hear them sing the Mickey Mouse Club song, and see the Walt Disney Hometown Museum's artifacts of his boyhood, a large collection of which were donated by Walt's sister Ruth."
The trip included visits to the Uptown Theater, where Walt developed his lifelong love of the movies. Guests watched a showing of one of Disney's lesser-seen films, "So Dear to My Heart," introduced by Becky Cline and Dave Smith from the Walt Disney Archives. There was also a visit to the site of the Disney farm, now home to a replica of the original barn. Says Steven, "All of our Members (about 100 of us from 19 different states, plus several Guests from Japan) were able to enter the barn and take part in the great tradition of signing the walls – we even saw signatures from such Disney luminaries as director Pete Docter and Imagineer Tony Baxter! It was a gorgeous evening and there was a wine tasting and hot chocolate. In fact, we had gorgeous weather all weekend! Several of us came from California, and it was actually warmer in Missouri than back home. It was a lucky break between snow and rainstorms, and we felt like Walt was looking down on us and wishing us well."
As exciting as it was to see Walt Disney Elementary School or visit the Disney farm site, Steven says that he felt closest to Walt because of, "The people of Marceline. We visited many sites – the elementary school decorated with art by Disney Legend Bob Moore, and the post office (the only federal building in the country named after Walt) – but the most important encounter was with the people of Marceline. Their warmth and friendliness gave us a sense of the spirit of Walt Disney. They're all very proud of Walt, and of the town's connection with him!"
The Disney aficionados who were present on these trips will never forget them – the many friendships made, and the chance to see Disney history in a very personal way. For those who weren't able to attend, there is more Disney lore to explore, and D23 is certain to plan more opportunities to explore it. Walt Disney was a busy and well-traveled man, who found inspiration wherever he went. Who knows where the next walk in Walt's footsteps might lead?
Posted 9 years Ago