Fiery, fearless
Merida, the teenage heroine in Disney·Pixar's "
Brave," defies a centuries-old custom to take control of her destiny, regardless of potential peril. When the film opens June 22, audiences are sure to fall in love with the passion that fuels Merida's determination in a heartwarming adventure across the Scottish Highlands. Merida's journey surely exemplifies courage, but whether it's an act of valor, fighting for justice, overcoming obstacles, or welcoming challenges, how do YOU define bravery? Pixar's creative team shared some of their own "brave" moments – personal anecdotes about significant events or inspirational individuals who influenced their work on "Brave." Here are their stories … how do yours compare?
Claudia Chung: Simulation Supervisor
In 2008, a close friend of mine was diagnosed with breast cancer. Though given two years to live, she and her husband basically said, "No, that's not what we want in life." Now four years later, they're STILL the bravest people I know. They responded to this disease by living life to the fullest, making decisions that sometimes defy odds (and logic), embracing adventure, and pursuing dreams. Their actions provided perspective for my work on "Brave" – fight for the challenges that matter, relish the great moments, and stop worrying about what could go wrong. My friends have travelled all over the world. It became a running joke that wherever she went, I'd plan a trip there as well – but that's okay with me. If there were any path I'd follow, it would be the one this amazing couple has blazed.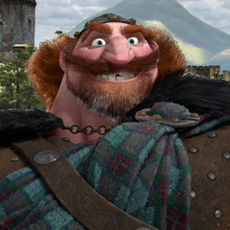 Danielle Feinberg: Director of Photography-Lighting
After college graduation, I took a cross-country road trip with friends. We borrowed an old car, which turned out to be a huge problem. It broke down all across America (in almost every state we passed through), and caused many unanticipated adventures – staying on a Utah commune, needing a fire truck in Colorado, getting a flat in the Badlands, and encountering an emu on a Wisconsin highway. Despite these crazy mishaps, we believed that everything would work out.
Toward the end of my travels, I drove the car from its latest repair-shop stop to Milwaukee in order to meet up with the only friend who hadn't abandoned the trip. Near the outskirts of Milwaukee, the car suddenly stopped on the highway. Big-rig trucks shook the car as they zoomed by at high speeds. I was terrified to be alone, at night, on the highway, in a city I didn't know – and there were no cell phones at that time. After finally getting out of the vehicle, I kept repeating "It will all be okay," over and over, while walking along the highway.
And in the end it was. A nice tow truck driver saved me from the side of the road. We shipped the car the rest of the way and flew home. That trip showed me the power of feeling confident that things will turn out well, which helped me reach my final destination.
Merida exhibits this same kind of spirit. No matter how bad things are, she has faith she can fix it without feeling sorry for herself. She just keeps on going … and I love that about her. Doing anything you love can be challenging at times – and movie making is a great example. But knowing situations always work out enables me to bring everything I have into my projects.
Brian Larsen: Story Supervisor
One of the film-related moments I remember was when we visited the fairy mounds on our first production research trip to Scotland. Just as Merida climbs a rock facing a waterfall in the film, we, too, scaled a large earth and stone mound called a citadel. It was a very narrow and steep hike up, with vertical walls on each side. I had to muster some courage in order to "brave" my way up the path. But at the top, there was a great view – of course!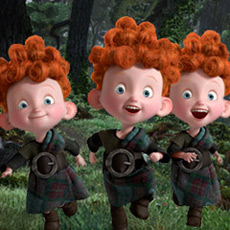 Steve Pilcher: Production Designer
There are many "brave" moments that bond us together as human beings. It's all about adversity. Bravery needs adversity to have meaning – only at that point can we summon courage and face challenges. It's what we do with adversity that shapes us. Do we accept the fate it brings, or try to change it? That's being brave. It's the spirit we need to survive, and triumph, in the face of life's adversity.
Before working at Pixar, I was at a point in my career where there was no "connection" to any of the projects offered, and found nothing else that required a production designer. At the time, I also suffered from a physical condition that threatened my life.
I could have accepted complacency, but chose to take a risk and change my fate. With the love and support of my wife and our two-year-old twins, I left my job and opted for a somewhat risky surgery. Quite by chance, an opportunity opened up at Pixar, which turned out to be "Brave" – a film filled with the profound emotions that enable us to deal with adversity.
Knowing how fragile and fleeting life can be drives me on "Brave." I want audiences to feel the emotions of "Brave" more than anything and, as the production designer, I've utilized all the visual tools possible to achieve that.
Many individuals inspired my work on "Brave" – those who fought for their aesthetic beliefs, and those we lost along the journey. It's the true, fighting spirit of "Brave." Merida deals with adversity on both a superficial and profound level. If the film communicates that and connects with people emotionally, it will be the greatest reward. It tells us all that we are not alone.

Posted 9 years Ago