May 25 is an auspicious date because way back in 1932, a little cartoon appeared in America's movie theaters called "Mickey's Revue." It starred the already well-known and beloved Mickey Mouse, but there was an unfamiliar face in the audience watching Mickey. That face had long droopy ears, a protruding tooth, and looked, frankly … goofy. Although he was originally known as Dippy Dawg, he came to be called Goofy and has been delighting audiences ever since. Whether we need a handy tutorial on how (not!) to ski or dance, or just a quick laugh, Goofy's our guy.
Originally voiced by Pinto Colvig, Goofy had a number of voice actors over the years. But since 1986, Bill Farmer has been the one and only official voice of Goofy. He was kind enough to tell us a little bit about his 25-year (and counting) career as Disney's most lovable Goof:
I was a standup comedian and impressionist, living in Dallas, Texas, when an agent told me, "You do all of these voices – you ought to try your luck in Hollywood." I moved out to California and four or five months later, as luck would have it, my agent asked, "Do you do any of the Disney Characters?" I auditioned on a Friday at my agent's and sent in the tape – a few weeks later they said they wanted to try me as the voice of Goofy. I didn't know if I would voice him once, twice, or a thousand times!
And so I went in on January 23, 1987, to do a cartoon called "Disney's Dog Gone Valentine." I practiced before that first assignment, but not for very long. I got a tape on a Friday and recorded my audition the following Monday. I just listened to some old cartoons over the weekend – "Boat Builders," "Lonesome Ghosts," and things like that. I guess I did okay, because they've continued to use me all this time – I've done about 3,000 or more jobs!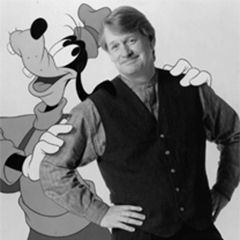 For the first couple of years I did the voice, it was like I was doing an impression of Goofy – then it just grows on you, and you put your own little spin on it. That becomes second nature and so after a few years, it was no trouble at all. In fact, I've gotten goofier myself! Anytime I fall down or do something stupid, I blame it on the Goofy curse.
In 2009, I was inducted as a Disney Legend, along with Tony Anselmo (the voice of Donald Duck), Robin Williams, and Betty White. It was a great honor to be included in the first public induction ever, which was held at the D23 Convention in Anaheim. Before that it had been on the Disney Lot, and was a more intimate affair. So it was thrilling for that reason as well.
I've worked for Warner Brothers, Sony, Universal – all the studios. But there's nothing as family-like as the group at Disney. They're truly an extension of my family and we've become great friends over the years. It's a closeness that doesn't exist anywhere else … and I think that's what makes it a special company.
Posted 9 years Ago