If the Golden State has always aspired to be the land of eternal youth, it only makes sense that Disney California Adventure Park should remain constantly new and exciting. And this summer, the Park will have two new Lands to explore, including a fresh entry experience. We spilled the beans about Cars Land and Buena Vista Street earlier this year – now join us for a virtual shopping trip and bite to eat in the newest parts of Disney California Adventure Park.
Cars Land Merchandise
Cars Land is a world peopled by cars, where human Guests are always welcome. Of course you expect to be taken on a wild ride when you enter the world of Disney·Pixar's "Cars," and Cars Land won't disappoint, with treats like Radiator Springs Racers and Luigi's Flying Tires. There are also tasty treats to be had. But a road trip this good calls for souvenirs – and Cars Land has you covered, with three main shopping pit-stops you won't want to miss.
If you've brought along a little future driver, Sarge's Surplus Hut is a must. There you'll find all things "Cars" themed especially for your miniature Mario Andretti, from apparel and hats to huggable plush and all sorts of wheeled toys, plus much more. Whether your kids are Mater maniacs or Lightning lovers, this is your emporium.
Adult "Cars" fans and collectors of all stripes will want to cruise through Ramone's House of Body Art. Here you'll find apparel for the whole family, plus merchandise themed to Radiator Spring Racers, collectibles, and more. The shop is an attraction in itself, incorporating styling ideas and inspiration from famed custom car designer Chip Foose, of Foose Design in California's own Huntington Beach.
Finally, Radiator Springs Curios is packed with must-have collectibles like "Cars"-themed pins and Vinylmation, plus Disney California Adventure Park merchandise. This is also the place to get souvenirs for your own car– even if your beloved ride couldn't visit Cars Land in person, you can still bring home something special like license-plate frames, window clings, antenna toppers, and much more to give your car that special touch.
Be sure to look for exclusive Cars Land collectibles you can't find anywhere else, and proudly flaunt your four-wheeled adventure!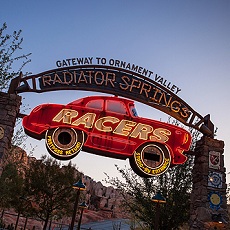 Carthay Circle Theatre Dining
Now you've taken a whirl on Luigi's Flying Tires, you're loaded down with shopping bags, and you're ready for a delicious, memorable, sit-down meal. Fortunately, satisfaction is as close as Carthay Circle Theatre, located right in the newly re-created entrance area of Disney California Adventure Park, Buena Vista Street.
Buena Vista Street offers a number of brand-new delights, including a chance to experience Los Angeles' iconic, and sadly long-gone, Red Cars again with the Red Car Trolley. But perhaps the crown jewel is Carthay Circle Theatre. Offering two different dining experiences, with small plates in the casual lounge or complete meal service in the dining room, Carthay Circle Restaurant and Lounge is a taste of the best of contemporary California cuisine – fresh, seasonal, and simply delicious.
We were lucky enough to chat with executive chef Andrew Sutton and chef Gloria Tae about what to expect at Carthay Circle Restaurant and Lounge. Says Andrew, "When Walt Disney came to Los Angeles in the '30s, it was a melting pot of many different cultures – we wanted to continue that tradition. We also wanted to give Guests an ocean-breezy cuisine that's light and healthy and fresh. This restaurant will be a sanctuary where you can escape from the noise, whether you're a mom with two kids in a stroller or a whole family coming in, whether you're sitting in the lounge for a small bite or going upstairs for a strawberry roast chicken salad with jicama." Chef Gloria adds, "People will not expect this kind of dining experience right inside the Park. We'll be continuing the Disney tradition of great service, with front and back working hand in hand to make sure every Guest has a fabulous time."
As you might expect from chef Andrew's "ocean-breezy" description, Carthay Circle Restaurant will have an outstanding seafood selection, with five different kinds of fish served daily, all sourced with an eye to sustainable practices. Not a seafood fan? Not to worry – there will be mouthwatering options for meat lovers and vegetarians as well, from succulent crispy duck wings and yummy udon beef bowls to peak-of-harvest heirloom tomato salad. Both lounge and dining room will also offer special kids' menus, so everyone can find something to enjoy.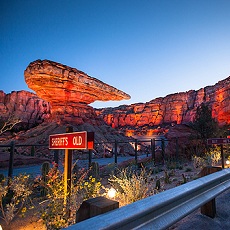 Both chefs are veterans of Disney's Grand Californian Hotel and Spa's acclaimed fine-dining establishment, Napa Rose, one of America's finest restaurants. At Carthay Circle Restaurant they are equally concerned with offering excellent food showcasing fine ingredients at the peak of flavor – but the two restaurants offer distinctly different experiences. "Guests at Napa Rose know to expect to invest a significant amount of time. Carthay Circle Restaurant is a more relaxed atmosphere, more of a family atmosphere," explains Andrews. "It's a Park environment versus a hotel environment, where you can go to back to your room to dress up for dinner." The food is great and the rooms are lovely, but families spending the day enjoying the Park in shorts and flip-flops will be perfectly welcome at Carthay Circle, and they'll be greeted with Disney signature warmth."
In keeping with that welcoming spirit, Carthay Circle Restaurant will welcome walk-in diners as well as accepting reservations – but your best bet for speedy seating is, of course, making an advance reservation. But whether you pop in for a nibble and a cool beverage or enjoy a full meal, it will be a dining experience unlike any other at Disneyland Resort.
With so much new to explore and experience, there's never been a better time to visit Disney California Adventure Park. Whether you're ready for shopping, dining, or simply exploring (or why not make it all three?), there's a world of adventure in the California sun awaiting you.
For reservations, call 714-781-DINE or email dining reservation requests to dine@disneyland.com.
Posted 9 years Ago