Since ancient times, stories of epic battles and mystical legends in the rugged and mysterious Highlands of Scotland have been passed down for generations.In the Disney-Pixar animated feature "Brave," a new tale joins the lore when the courageous Merida confronts tradition, destiny, and the fiercest of beasts.
But as those familiar with anything about Disney know, this isn't the first time that the Studio has visited bonnie Scotland.
As part of the unjustly forgotten documentary series "People and Places" (1953-1960), a 25-minute exploration of the customs, history, and scenery of Scotland was released in 1958. Like the other entries in the series, "Scotland" was lushly photographed in CinemaScope® and Technicolor® by Kenneth Talbot, and featured an impressive original music score by Cedric Thorpe Davie.
Among the people and locales visited in "Scotland" are a lonely bagpiper on Hadrian's Wall, the sailors and farmers of Inner and Outer Hebrides, the communal activity of shrinking homespun woolens (known as "walking the cloth"), the spinning of wool tweed, herring fisherman at sea, and the social custom of songs, reels, and flings at a Ceilidh — all showing us a Scots people, narrator Winston Hibler intones, whose "foot is on his native heath, his eyes can see the present in his past, and his heart is in the Highlands."
The history of Scotland and one of its greatest heroes was the subject of the 1954 live-action Disney feature "Rob Roy, The Highland Rogue." Although the story of Rob Roy is best known through a famous novel by Sir Walter Scott, Lawrence E. Watkin derived Disney's adaptation from historic sources in an all-new screenplay.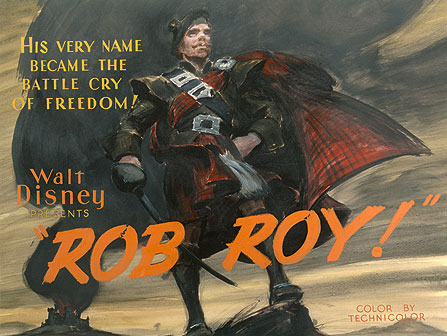 Robert Roy MacGregor (1671-1734), usually known simply as Rob Roy (or sometimes Red MacGregor), is a well-known Scottish folk hero — considered an outlaw of the early 18th century by the nobles and leaders — who famously stole from the rich and gave to the poor.
This was the last of the four films made by Walt in Britain in order to use frozen assets there. Like its predecessors, "Rob Roy" employed its locale with lavish richness. It starred Richard Todd, who had also appeared in two of the previous features, "The Story of Robin Hood and His Merrie Men" (1952) and "The Sword and the Rose" (1953).
Unfortunately, the director of those films, Ken Annakin, was not permitted to direct "Rob Roy," and Harold French was called in at the last minute to direct. The film lacks the grace and humor of the previous British films — even director French referred to it as "a Western in kilts."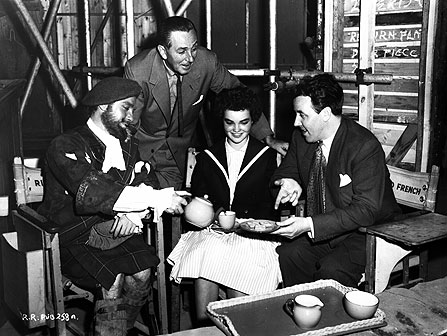 In Richard Todd's autobiography, he recalls that the extras were soldiers of the Argyll and Sutherland Highlanders who had just returned from the Korean War, on loan from the Scottish War Office.
He also sheepishly admitted that while shooting his first scene, boldly leading a charge, his heroic bravado was somewhat undermined when he stepped in a rabbit hole and tumbled to the ground, injuring his ankle.
The Disney Studio ventured to Scotland again in 1960, this time for a colorful big-screen adaptation of Robert Louis Stevenson's epic "boy's" novel, "Kidnapped."
In this often-overlooked feature, James MacArthur plays the virtuous David Balfour, a sturdy young man in 18th-century Scotland who is betrayed by a greedy uncle for his inheritance, shanghaied by a devious sea captain, and finally rescued by a swashbuckling soldier of fortune.
Directed by Disney stalwart Robert Stevenson, "Kidnapped" is a solid adaptation with an excellent cast that includes Peter Finch, Finlay Currie, and an early film appearance by Peter O'Toole.
Typically handsome Disney production values are on display, with breathtaking location footage from the Highlands of Scotland, including Ardgour, Ballachulish, Fort William, Glen Coe, and Glen Nevis.
Even though the film was praised for its fidelity to the book and the excellence of its making, "Kidnapped" fared poorly at the box office. Many of the same critics who complained that Disney's adaptation of "Treasure Island" ten years before was too broad and flamboyant, now complained that the adventure in "Kidnapped" was too tame and understated.
In 1962, Don Chaffey directed Disney's adaptation of Eleanor Atkinson's novel "Greyfriars Bobby," based on a true Scottish story about a Skye terrier who became known in 19th-century Edinburgh for spending 14 years guarding the grave of his owner, John Gray (Old Jock).
Again filmed on location, it featured a stellar cast (including Donald Crisp and Laurence Naismith) and typically high-quality production (as well as a highly appealing canine star) but its slow pace and somewhat aimless story worked against it overall. As Leonard Maltin noted in his essential book "The Disney Films," "Director Don Chaffey fared somewhat better when he made 'The Three Lives of Thomasina.'"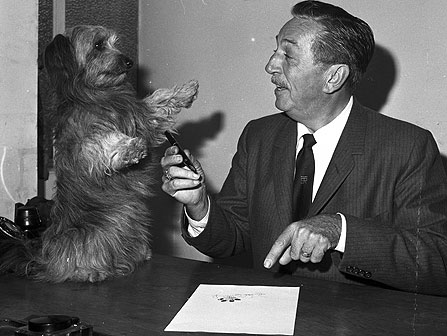 Two years after "Greyfriars Bobby," Disney's next visit to Scotland was a peculiar fantasy based upon Paul Gallico's novel "Thomasina, The Cat Who Thought She Was God." Retitled "The Three Lives of Thomasina," the film is set in 1912 in the town of Inveranoch, Scotland. The sentimental and genteel story of the redemption of souls and reunion of a family through their relationship with an unusual cat is a (characteristically) far deeper fable, although it might at first seem like a superficial "girl and cat" movie. It is a frequently moving and highly curious film (as are so many of Walt's productions), draping its rich soul with bright humor and entertainment — to the ultimate advantage of its emotional heart.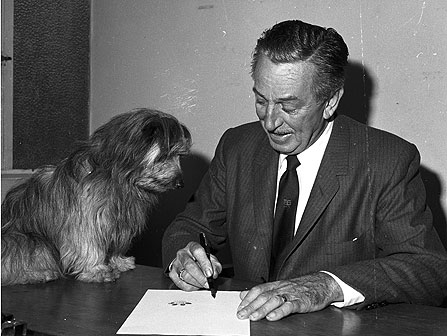 The juvenile lead of Thomasina, Karen Dotrice, so impressed Walt that he signed her to play Jane Banks in his live-action musical fantasy "Mary Poppins." One of her onscreen playmates likewise caught the eye of the boss, and Matthew Garber nabbed the role of Jane's little brother, Michael. The pair would also go on to star in the 1967 Disney fantasy "The Gnome-Mobile."
As is often the case with the study of Walt Disney's life and work, a seemingly incongruous or unaffiliated subject can reveal a wealth of information, insight, and understanding of that subject. So it is with Walt's relationship to Bonnie Scotland.
The heath waves wild upon her hills,
Her foaming frae the fells,
Her fountains sing o' freedom still,
As they dance down the dells.
And weel I loe the land, my lads,
That's girded by the sea.
Then Scotland's vales, and Scotland's dales,
And Scotland's hills for me;
I'll drink a cup to Scotland yet,
Wi a' the honours three!
—Henry Scott Riddell (1798-1870)
By Jeff Kurtti
---

Jeff Kurtti is one of the leading authorities on The Walt Disney Company and its history. The author of more than 25 books, Kurtti worked for Walt Disney Imagineering, the theme park design division of The Walt Disney Company, and then for the Corporate Special Projects department of Disney. Most recently he was creative director, content consultant, and media producer for the cornerstone exhibit at The Walt Disney Family Museum in San Francisco, California.
Now, Jeff brings his passion and expertise to Disney Insider through a unique online presence called "The Wonderful World of WALT."
Posted 9 years Ago