Sometimes holidays have a way of sneaking up on us! So maybe you had vague plans to throw an Independence Day shindig, but just realized that (eek!) – it's TOMORROW! Don't panic – we've got you covered. From quick-to-fix patriotic treats to parade gear with a Disney flair, last-minute Fourth of July fun is at your fingertips.
If you want to host a celebration, either with just your nearest and dearest or numerous family and friends, you can deck out your deck (or patio or dining-room) in red, white, and blue without leaving the computer! Check out a world of printable fun at DisneyFamily.com for patriotic Disney decorations, hats, hot-dog holders, and more. Just print the goodies of your choice, stock up on refreshments and music that celebrates Americana (slip Miley Cyrus' "Party in the USA" into the mix), and let the fun begin.
And that refreshment table might look even better with a red, white, and blue Mickey Fruit Salad front and center! This summer treat couldn't be easier (or healthier!). Grab peak-of-summer fresh fruit in the colors of the American flag – red watermelon, strawberries and/or raspberries, white bananas, pineapple, and/or apples (red delicious can do double-duty for red AND white!), and blueberries to round it off. Cut the fruit into bite-size chunks, blend in a bowl, and top with "Mickey" silhouettes consisting of a banana slice with two blueberry "ears." A squeeze of lime juice adds zest and will also keep apples and bananas from turning brown.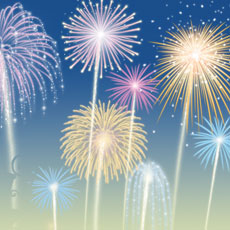 If fireworks are permitted in your area, you might want to end the evening with a backyard display. To keep it safe, use these handy tips! Real fireworks off limits? Homemade noisemakers and painted pyrotechnics can supply the same fun with a boost of creativity!
Other spur-of-the-moment plans can include attending professional firework displays – most areas have them, check your local news outlets for times. Bring a picnic and blankets for instant patriotic fun. Or why not participate in a community parade? With kids riding decorated wagons, local benevolent organizations, and marchers often tossing candy or trinkets, these parades are a slice of old-fashioned small-town Americana that's still alive and thriving in the modern world – and it's a great way to say hi to neighbors while enjoying some community spirit. If you're going to march, you'll need to be decked out properly with an easy-to-make Mickey and Friends Fourth of July Flag and a patriotic topper like Mickey's Fourth of July Hat.
However you celebrate, have a wonderful Independence Day and let freedom ring!
Posted 9 years Ago