Want exciting new ways to keep your family connected this summer? Crank up the cool factor with activities, adventures, and suggestions from Disney Family.com! From offbeat ideas city by city to fun-filled getaways, we've culled a sand castle-worthy bucket list of must-try excursions destined to please kids of all ages. So ditch the barbecues … it's time for creative coast-to-coast entertainment!
Day Trips
Take a break from scaling the craggy crests of Bar Harbor, Maine, for a different kind of seasonal experience at Diver Ed's Dive-In Theater, a zany comedy show that navigates marine education to new depths. The Japanese and English-landscaped gardens at Asticou Terraces-Thuya Garden offer a divine sanctuary for the botanically curious. Oceanic thrill-seekers should definitely check out Thunder Hole – its surf-soaking risks offer an exhilarating departure from throwing down a boogey board.
Beantown bound? Cruise the public gardens via the Swan Boats of Boston or behold historic hotspots on the Boston Duck Tours, both quack-tastic ways to get acquainted with the Red Sox stomping grounds (and ruffle a few feathers, er, giggles along the way). Enter the ever-intriguing Mapparium to view the world's evolution (from 1935 on) through a fascinating stained-glass globe.
New York City slickers can discover gallery upon gallery upon gallery of art and artifacts at Manhattan's Metropolitan Museum of Art. Though its enormous size might be intimidating, out-of-towners shouldn't forgo exploring ancient Egypt's Temple of Dendur, the arms and armor wing, or the famed Costume Institute. Set aside a full day to unleash your wild side by heading to the Bronx Zoo, one of the world's largest, and most famous, menageries. (The Skyfari ride doesn't disappoint!)
Down in Atlanta, the Center for Puppetry Arts presents puppet shows and displays that are a must-see. Love a good ballgame? Pop in to the Georgia Dome (home of the Atlanta Falcons) for sporting and other special events in downtown Atlanta.
Sugar 'n' spice makes Southwesterners nice, and the Cerreta Candy Company is one of Phoenix, Arizona's sweetest treats. Turn up the heat at the Hall of Flame Firefighting Museum, or re-enact life in the Old West at the Pioneer Arizona Living History Museum.
Need a kid-friendly alternative to Sin City casinos? Las Vegas welcomes visitors into the immersive world of the USS Enterprise at Star Trek: The Experience, an intergalactic extravaganza not to be missed. Sightseers drawn to the strip should jump on the Las Vegas Monorail for a fast alternative to hailing cabs or walking. (Not to mention it's really fun!)
Travel further west along the Pacific coast to Seattle, Washington, home of the Space Needle. The sparkling glass elevator soars 520-feet up into the sky to reveal breathtaking 360-degree views. Dinosaurs, laser shows, and a planetarium are just a few of the many exhibits at the Pacific Science Center, which offers something for everyone – from teens to toddlers.
Who can resist San Francisco's Cable Car Museum? It seems like a no-brainer, being that this hilly city made cable cars legendary. No City-by-the-Bay stay is complete without seeing the Golden Gate Bridge (and nearby Golden Gate Park!), Alcatraz, Lombard Street, and The Walt Disney Family Museum. Run by Walt's daughter Diane Disney Miller, this nostalgic museum provides an intimate look inside the life of the man who started it all.
Los Angelenos love their beaches, and people watching at the Venice Boardwalk is strongly recommended. Other high-ranking highlights include Griffith Observatory, La Brea Tar Pits, Rodeo Drive, Huntington Library, Little Tokyo, Olvera Street, and Mann's Chinese Theater.
Known as the "birthplace of California," San Diego's harbor, parks, Presidio, and pristine beaches prove this is the ideal town year-round. Making the trek to any of these scenic landmarks is well worth your time – Balboa Park, Cabrillo National Monument, Maritime Museum, and the San Diego Zoo. Check out Aqua Adventures if you're of the kayaking-whale watching-boating persuasion.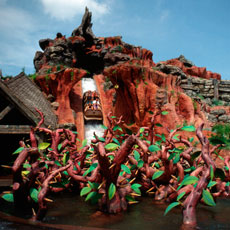 Overnight Expeditions
Looking to hit the road a tad longer? Pack your bags for the Adventures by Disney Backstage Magic Tour. This six-day, five-night holiday whisks wayfarers off to Hollywood, California, for private tours that include Jim Henson Studios, Walt Disney Imagineering, Walt Disney's Disneyland apartment, Disney California Adventure Park, and more.
Of course, Fans can always make a beeline to any of the Disney Theme Parks worldwide, for magical memories that won't fade after Labor Day. FYI: Splash Mountain's perfect when temperatures rise!
Posted 8 years Ago