Comfy sneakers, sunscreen, and jackets (for chilly nights) are must-haves, but before heading to Disneyland and Walt Disney World Resorts, you can learn the ropes from experienced Theme Park-goers – especially for first-time visits. In order to experience the plethora of parades, rides, and attractions, serious enthusiasts realize the importance of having a game plan to cover more ground – and that's where we come in. From the Disney FASTPASS® to fast food, we've culled tips from fans who know Disney Parks like the back of their Mickey ears.
SCHEDULING
Guests of select Walt Disney World Resort hotels receive Extra Magic Hours before or after regular Park hours on certain attractions. (Disneyland Resort Hotel Guests receive Extra Magic Hours before the Park opens.) Arrive late afternoon on weekends for the best chance of avoiding super long lines and mid-day peak heat. October's a great time to visit Walt Disney World Resort – wander the Epcot International Food & Wine Festival (included with Park admission), then celebrate at Mickey's Not-So-Scary Halloween Party at Magic Kingdom Park. (Additional ticket required.)
RIDES
Shhhh … Fantasyland attractions might be less crowded during the afternoon parade at both the Magic Kingdom and Disneyland Resort. Speed demons can catch thrills quicker via the Single Rider Line (on select attractions at the Disneyland Resort) and may stay dryer on Splash Mountain by riding in the back row. Overheating? The Haunted Mansion gives Guests 12 air-conditioned minutes to chill.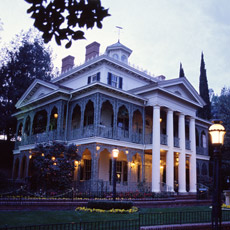 FASTPASS
Learn Disney's FASTPASS service to help bypass some crowds. Arrive early for FASTPASS tickets to select attractions. See when you're able to visit your next FASTPASS kiosk. (Times vary seasonally from one to several hours.) At the specified time, grab another FASTPASS ticket for your second ride, then return to ride the first. Depending on rides selected and time of day, this system helps minimize wait times. Use FASTPASS tickets only on rides with a 20-plus minute line, then wait for those with shorter lines in between FASTPASS times.
FOOD
Love Disneyland Park eats? Recipes for Gumbo (Royal Street Veranda), Mint Juleps (Blue Bayou, French Market Restaurant, and Café Orleans), and Walt's Favorite Chili (Plaza Inn) are available at City Hall. For a quick bite between rides, try the Churros by Sleeping Beauty Castle or hot Mickey pretzels from the Refreshment Corner, hosted by Coca-Cola® (Main Street, U.S.A.). The famous corn dogs from the Little Red Wagon at Disneyland Park (Main Street, U.S.A.) are also available at the Corn Dog Castle in Disney California Adventure Park. BONUS: Lots of nearby seating!
Hungry Walt Disney World Resort Guests can make their own pineapple or vanilla Dole Whip at Captain Cook's (inside Disney's Polynesian Resort). For ice cream cookie sandwiches made with fresh chocolate chip cookies, stop at Sleepy Hollow (Liberty Square, Magic Kingdom). Other quick service eateries include Casey's Corner (Main Street, U.S.A.) for "designer" hotdogs, Cooks of Dublin (Downtown Disney area) for fish 'n' chips, or Kona Island (Disney's Polynesian Resort) for Tuna Poke and Nigiri sushi.
BIRTHDAYS
Celebrating a birthday or other special event? Ask for a "celebration button" from Guest Relations (City Hall) or the Main Street Information Booth. You may even be able to receive a birthday call from Goofy! (Disneyland Resort)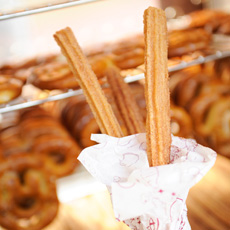 CHARACTER MEET 'N' GREETS
Royal watchers will find their favorite Princesses at the Disney Princess Fantasy Faire near the Mickey's Toontown entrance (Disneyland Park) – try getting a jump on the crowds by arriving at least 15 minutes before opening. For free-wheelin' fun, visit Lightning McQueen and Mater in Cars Land (Disney California Adventure Park).
Character dining experiences provide an entertaining (and delicious!) way to meet some Disney favorites. Check with each restaurant for details, but popular nosh spots at Disneyland include Goofy's Kitchen (Disneyland Hotel) and Ariel's Grotto (Disney California Adventure Park), where Characters stop by to chit-chat, sign autographs, and take pictures. (Call to confirm specific meal times.)
At Walt Disney World Resort, visit Cinderella's Royal Table in the Magic Kingdom (Fantasyland), Chef Mickey's (Disney's Contemporary Resort), and the Garden Grill Restaurant in Epcot (The Land Pavilion), where Guests can feast on all-you-can-eat fare.
PREFERRED VIEWING
Diners at Disney's California Grill (located on the Contemporary Hotel rooftop) have a ringside seat for watching Magic Kingdom fireworks (Walt Disney World Resort), or try settling in near the Partners' statue. If more than one parade or show is scheduled, the second is usually less likely to be as crowded.
TAKING BREAKS
Need a breather from inside-the-Park fun? Walt Disney World Resort vacationers can rent wave runners for a waterfront tour of Bay Lake and Seven Seas Lagoon. Afterwards, return to the Parks for nighttime fun. (Admission tickets required.)
Sneak away to Paradise Pier (Disney California Adventure Park) for a bite to eat and re-energize. Getting weary? Jump on the Disneyland Railroad (Disneyland Resort) or Magic Kingdom train (Walt Disney World Resort) to kick back, relax, and soak up Disney nostalgia – kids love it! (At Disneyland Resort, Guests can ride in the Lilly Belle, a parlor car Walt made for his wife, Lillian … just ask a Cast Member!)
ADULT FUN
Disney Theme Parks also offer wonderful places for grown-ups to unwind. At Disneyland Resort, Trader Sam's – Enchanted Tiki Bar (Disneyland Hotel) and Disney's Grand Californian Hotel and Spa lobby both offer a relaxed atmosphere, great food, and "over-21" refreshments. At Disney California Adventure Park, stop by the Golden Vine Winery (home of Mendocino Terrace, Wine Country Trattoria, and the Alfresco Lounge), Bayside Brews, Cove Bar, or Carthay Circle Lounge (Buena Vista Street). In Walt Disney World Resort, be sure to check out Disney's Boardwalk and the Downtown Disney area!
OTHER COOL STUFF
Don't want to lug souvenirs around? Most Walt Disney World stores will send packages to the front of each Park for later pick-up. Don't worry if phone or camera batteries die – Guest Relations (City Hall) has universal chargers to charge it for you.
Guest Services provides "child stickers" for your name and mobile number – if little ones get lost, they'll call you immediately. Take breaks at the Parks' Baby Centers, complete with changing tables, feeding areas, nursing stations, and handy baby items.
Disneyland Park Guests can listen to conversations from the 1900s on party line phones in the Market House (across the street from Carnation Café). Imagineers placed Hidden Mickeys on every attraction so keep your eyes peeled!
Unique topiaries and a "faux" pet cemetery reside on the right side of the Haunted Mansion (Disneyland Park) – it's often overlooked as the queue snakes around the attraction's left side. Trade any pin with Cast Members as long as they don't have the same one on their lanyard.
Now that summer's here, these tips will help make the most of every magical moment!
Posted 9 years Ago