What does "treasure" mean to you? A one-of-a-kind fairytale volume handcrafted in metals and jewels? A gown fit for (and worn by) a Princess? A portrait recovered from the walls of a legendary Haunted Mansion? Perhaps the Black Pearl herself?
Or maybe a treasure is a tangible scrap of history – like a telegram received by Walt Disney himself, with his own notes on the margins. Or a meticulously reassembled office where a legend worked his creative magic, complete in every detail right down to the books on the shelves.
All of these unique treasures – and many, many more – are currently on display at the exhibit "D23 Presents Treasures of the Walt Disney Archives at the Reagan Library," running through April 2013 at the Ronald Reagan Presidential Library & Museum in Simi Valley, California. The Walt Disney Archives and D23 have teamed up to mount an unprecedented display of 500 Disney treasures from Walt's Oswald the Lucky Rabbit days right up to recent blockbusters like "TRON: Legacy" and "Tim Burton's Alice in Wonderland" – half of which have never been displayed in public before.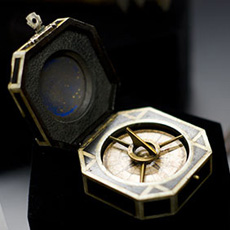 The scope of the exhibit is staggering. Just a few of treasures on display include Walt's office, with all the original furniture, décor, books, and other objects assembled just as Walt himself had them; original costumes from "Enchanted," "101 Dalmatians," "Tim Burton's Alice in Wonderland," and more; Mary Poppins' traveling costume and toys from the nursery; working custom motorcycles from "TRON: Legacy" and "Captain America"; hyper-detailed shooting models of the Nautilus (from "20,000 Leagues Under the Sea"); as well as the Endeavor and the Black Pearl from the "Pirates of the Caribbean" films … and that's just scratching the surface! Items range in size from postage stamps honoring Walt Disney and trinkets of jewelry from "The Shaggy Dog," up to the massive Black Pearl – a model so large that the exhibit space is barely high enough to accommodate it. A professional ship's rigger needed to spend an afternoon re-rigging the Pearl after it was installed.
Steven Clark, head of D23 and the Walt Disney Archives, tells us, "We wanted to give our fans a journey through the nine decades of Disney magic and history. And this is only the tip of the iceberg of what's in the Archives collection! The Archives has about 75,000 square feet of warehouse [space], and it's packed to the gills." With so much to choose from, "We started thinking about what items to showcase in this exhibit and wanted to touch on some very important themes – Walt as a man and his story, the building of the studio. Those classic live-action films like 'Mary Poppins' and '20,000 Leagues Under the Sea.' The early years of Disneyland and how Disneyland developed through the years, and then of course our blockbuster live-action films. Now people have a chance to actually see the props, costumes, and set pieces from the great Disney attractions and films in the real world, and appreciate these pieces for the art that they are."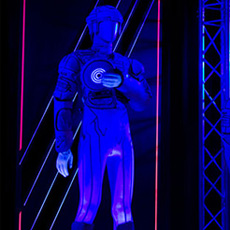 Adds Archives Director Becky Cline, "This is the biggest exhibit we've ever done. We pulled out the stops and brought a lot of big things that we don't normally get to share. We have some things here that we've never been able to share before. People don't realize, but we have multiple warehouses where we keep things. For instance, all the photographs are from our photography collection – we run the photo library for the company with three million images."
The exhibit is loaded with items that would be show-stopping centerpieces in most contexts, from busts of every American President (created as reference for the Hall of Presidents at Walt Disney World Resort) to an enormous dragon's head from Disneyland Resort's "Fantasmic!" show. But pressed to name a highlight, both Steven and Becky agree that seeing Walt's office reassembled is a truly amazing experience. "In 1970 when Dave Smith started the Disney Archives, his first job was to go in and inventory Walt's office and photograph it in detail, so we used those photographs to make sure we reassembled the room accurately. Every wall in that room was photographed!" says Becky. Adds Steven, "You'll notice that some of the books are upside-down – that's because some of them were upside-down when he shelved them!"
If you're ready for a walk through nine decades of Disney's history, don't miss the exhibit. It is truly an experience to treasure.
Posted 9 years Ago