Some people dismiss Walt Disney and his work as sentimental, predictable, or trite. The truth is quite different. Although Walt's creations often drew on familiar territory mined from classic fairy-tales and beloved novels, the iconic Disney characters and style also appeared in lesser-known and sometimes surprising contexts.
To be sure, Walt's mid-1930s identity — a "modern Aesop," a purveyor of cartoon tales for old and young, the master of an entertainment fairyland — was well-earned. So much so that when the Laurel and Hardy musical fantasy "Babes in Toyland" premiered in 1934, audiences were delighted — but perhaps not surprised — to see a few familiar faces in the company of Mother Goose and Bo Peep.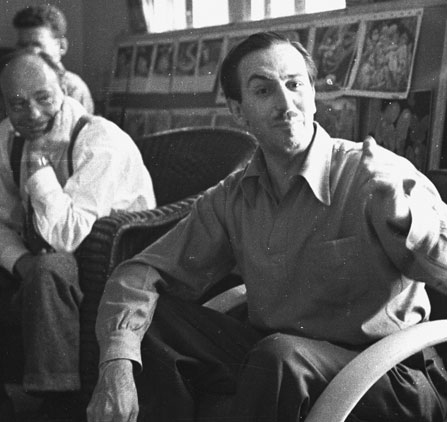 In the Story Room, Walt's colleagues expected the unexpected. © Disney
Loosely based on the Victor Herbert operetta, "Babes in Toyland" was produced by Hal Roach, whose films starring "Our Gang" and Laurel & Hardy were staples of the 1920s and 1930s movie experience. Roach had become friends with Walt during their frequent polo matches at the Uplifters Polo Field and the Riviera Polo Field in Los Angeles.
Roach certainly knew that his ambitious production was entering into a territory firmly fixed in the public mind as "Disney," and including Walt's popular contemporary characters in a more traditional "Toyland" along with the Roach comedy stars surely brought currency to the film — and simultaneously lent a "nursery rhyme credibility" to Walt's characters.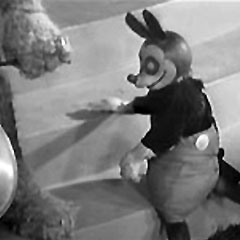 In the film, a companion of the Cat and the Fiddle was a familiar little mouse in button-front shorts and white gloves (the "actor" in the Mickey Mouse costume was actually a trained capuchin monkey), and the inhabitants of Toyland include Disney's three little pigs, who were at the height of their public popularity — an instrumental version of "Who's Afraid of the Big Bad Wolf" from the 1933 Silly Symphony short was also heard in the musical score.
The New York Times raved, "Borrowing Victor Herbert's title and his music, as well as Walt Disney's dream-world secrets, the custodian of the royal custard [a reference to Roach and his "pie-throwing" style of slapstick] has enriched the Christmas holidays with an original flesh-and-blood fantasy."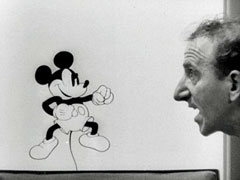 "We don't actually make films for children," Walt said, "But we make films that children can enjoy along with the parents." With this philosophy, even in his earliest work, Walt had reached such a broad audience that adult theatergoers were no doubt both pleased and surprised when the star of the same year's MGM feature "Hollywood Party" Jimmy Durante, responding to a partygoer shrieking "A mouse!", reached behind a chair and lifted an animated Mickey into view.
After some comic conflict with Durante, Mickey summoned a piano and began to play a song, "Hot Choc'late Soldiers" by Nacio Herb Brown and Arthur Freed ("Singin' in the Rain"), which transitions to a full-Technicolor® Silly Symphony-style animated short, with vocal sung by Art Jarrett.
"Presumably, Louis B. Mayer was desperate to make the troubled film into a hit," says film historian Peter Fitzgerald, "and offered Walt a fortune. Walt was frequently in need of funds, Mickey was his big star at the time, and the Silly Symphonies were well-known box office hits."
The Mickey footage and "Hot Choc'late Soldiers" went unseen for nearly sixty years after the 1934 release of "Hollywood Party" — Disney Studios had licensed only theatrical rights for the material. In 1992, Turner Entertainment (which then owned the rights to the MGM film library), established the proper licenses for the inclusion of Mickey and "Hot Choc'late Soldiers" in video releases of the feature.
So Walt was not just the monarch of the nursery, he was also quite in vogue with adults, and his elevation of the quality and innovation of animation, as well as its effect on the popular culture, had begun to attract the attention of art scholars (for both good and ill) in a manner that foreshadowed the emergence of the "pop art" movement in the 1950s.
The Los Angeles County Museum organized a "Retrospective Exhibition of the Walt Disney Medium" in 1940, a comprehensive overview of 12 years of Disney artistry, from "Steamboat Willie" through "Fantasia." The purpose of the exhibition, as stated in the exhibit catalog, was to document the art within the animation: "In twelve years Walt Disney has elevated animated pictures from a crude form of entertainment to the dignity of a true art. No other medium has such plasticity."
By the end of that decade, Walt's characters had become globally beloved, emissaries of good will that were of enormous value to commercial enterprises who clamored to bathe in Mickey's (and Walt's) reflected glory. "Mickey was simply a little personality assigned to the purposes of laughter," Walt said humbly, but that was enough to make him a friend to the world.
The National Biscuit Company ("Nabisco") saw the potential of Mickey and his friends as "goodwill ambassadors," and Walt obliged with another unexpected production, "Mickey's Surprise Party," a five-minute Technicolor® cartoon short created especially for Nabisco's exhibits at the 1939 World's Fairs — in both San Francisco and New York.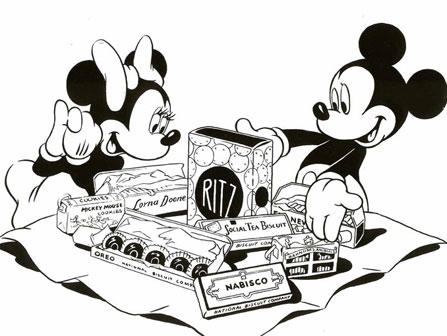 Mickey and Minnie and baked goods galore, 1939. © Disney
The January-February 1939 "National Biscuit Company Magazine" reported that "In New York, we … are erecting an air-conditioned motion picture seating approximately 266 persons. On Treasure Island, in San Francisco Bay, our Company has erected a modern motion picture theatre in the Food and Beverages building. The theatre… seats about 130 persons. There will be no charge to either theatre."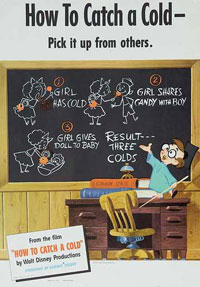 Over the following years, Walt and his characters continued to surprise audiences with the unexpected, boosting income tax awareness for the Internal Revenue Service with "The New Spirit" (1942) and "Spirit of '43" the following year, producing an educational program for General Motors ("The ABCs of Hand Tools," 1945), and promotional films for Kimberly-Clark, including "How to Catch a Cold" (1951).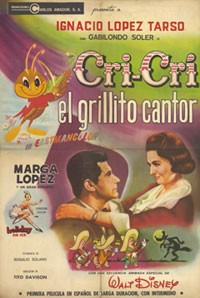 But perhaps the most unknown and unexpected Walt Disney project surfaces in a 1963 live-action musical feature film for which Walt Disney Productions specially created an entire animated sequence. Produced in Mexico, "Cri-Cri el Grillito Cantor" ("Chi-Chi, the Little Singing Cricket") is the story of songwriter Francisco Gabilondo Soler, who recorded and performed his songs under the name of Cri-Cri, el Grillito Cantor.
Much like that of the Sherman Brothers to the north, Cri-Cri's music was ostensibly for children, but appealed to all ages, and combined entertainment with sincerity and wisdom. Over the decades, several of his song characters have become ingrained in Mexican culture. The beloved "La muneca fea" ("The Ugly Doll'), for instance, tells the story of a broken doll, forlorn and forgotten in an attic, who is befriended by a mouse.
One of his other popular songs, "Cochinitos dormilones," ("Sleeping Pigs") is a lullaby about the bedtime imaginings of the three little pigs (one dreams of becoming king, another of sailing, and the third of helping his mother). This was the song for which Walt's team animated their sequence, under the expert supervision of Disney Legends John Lounsbery, Bill Justice, and X. Atencio.
The three pigs had come a long way from Toyland, and although they were stars of 30 years' standing — they again represented the unexpected Walt Disney.
By Jeff Kurtti


Jeff Kurtti spent 10 years as a Disney employee, and has written more than twenty books, dozens of magazine articles, and scores of blog columns about Walt Disney, his life, and his work.
Now, Jeff brings his passion and expertise to Disney Insider through a unique online presence called "The Wonderful World of WALT."
Posted 6 years Ago