This summer, Disney fans and Disney characters will be able to play in a whole new way. How would you like to swashbuckle with Jack Sparrow one day, then build a whole new game where he can team up with Mr. Incredible the next? And maybe the day after, you'll just display the detailed and whimsical sculptured characters in your home or office. With Disney INFINITY, how you choose to play will be limited only by your imagination – which makes it perfect for kids and grown-ups alike.

Here's how it works – every starter pack will come with an INFINITY Base, three INFINITY character figures, a landmark piece and a power coin. The base can be attached to most major gaming systems, and when the figures are placed upon it they unlock worlds and games. You can adventure through the Play Sets that enact the characters' journeys, with a different game for each world – for instance, a superhero battle to save the world for The Incredibles, an adventure on the high seas in the Pirates of the Caribbean, or pranks to play in Monsters, Inc. These adventures alone offer hours and hours of play value, with skills to master and challenges to overcome. But that's just the beginning, because Disney INFINITY also allows gamers to play in "Toy Box mode," which opens up unlimited possibilities to create original games, combine characters from different worlds, and simply explore and tinker. Purchase additional figures and add-ons to open up even more possibilities – Disney INFINITY can grow as big as your imagination.
It's pretty clear that this game will be – well, a game-changer! It's unlike anything we've seen so far. We sat down with John Blackburn, the Studio Vice President and General Manager of Avalanche Software, about how Disney INFINITY came to be, and to get a few hints about how to get the most from the game.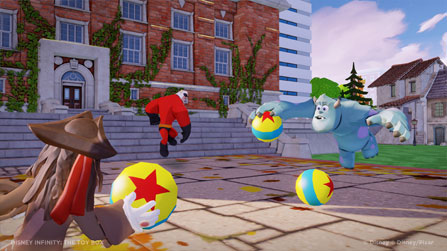 DISNEY INFINITY: THE TOY BOX ©Disney ©Disney/Pixar

Disney Insider: Tell us about the creative process that went into making this game – it's miles beyond what we've seen before.
JOHN BLACKBURN: When we start making a video game, we really just sit down and start coming up with ideas. I think it's like any creative process. You've kind of got to ground the idea in something that it resonates will all the people who are on the team.
With Disney INFINITY, that brainstorm actually began on Toy Box Mode, which we created for the Toy Story 3 game. We came up with this idea where we wanted to allow users to create their world, and change the rules in their world, like kids playing with their toys on their bedroom floor. Then there were a ton of things that we wanted to do to make the next game better.
And so we went through and said, "You know, really what we want is more freedom for the player, and we want more expressiveness in here, and then we actually want to give you more power and control over that world."
Disney Insider: I don't think we've gotten to see these characters interact in each other's worlds before.
JOHN BLACKBURN: It's really cool that Disney actually allowed us to combine all of these great properties and characters together in this unique way for the first time. In this interactive world, we call Toy Box, players can combine different characters with different powers in a way that's really fun.
You can have characters that come from different properties interacting in worlds that look like crazy mash-ups of things that you would never expect together. It's really been a privilege to work with some of the best creative minds in the Company on what drives their characters and what they care about, so that we make sure those characters are still true to property, but when you combine them together, you can get results that you've never seen before.
Disney Insider: Any there any innovations in the game you thought might not be possible to achieve?
JOHN BLACKBURN: Technologically, this game is very advanced, and we had to solve some really hard problems. But I think the coolest thing that we were able to do was coming up with ways the characters could interact with each other that all of the creative stakeholders could get behind and actually believe in. The fun thing is that all of them remember what it was like to use their favorite action figures to create all-new play experiences in the real-world and now they want their kids to have the chance to experience that creative freedom in the virtual world of INFINITY.
Disney Insider: Tell us about Toy Box Mode.
JOHN BLACKBURN: Toy Box Mode is something that I've never seen before in video games. You have your standard human form characters. You can play with them, but you can also play with cars like Lightning McQueen, who have completely different shapes and forms. And you can take all of those together and interact in ways that I think are really going to surprise players.
And the players actually have creative power within the world, so, in the same way that a kid who is sitting there playing brings out a new toy and it changes the story, you can change the entire world. You can bring in any toy at any time. You can change any element of the world, and while you're doing that, you can go through and record things that you're doing. And then you can also save those things and make them into games themselves.
Disney Insider: What are some of the things that people have done in play testing?
JOHN BLACKBURN: The play testing on this game has actually been kind of crazy. We've had people go through and play in so many different ways, I think that's the biggest surprise to me. We have players who love to go play the adventures, but some of the most surprising things are when people go play whatever they want to. We've had people create just these massive worldscapes.
We've had people create complete original video games. We've had people re-create favorite '80s arcade games. We've had people go create things like the Starship Enterprise and it actually had an interior with elevators inside.
All of these things have been really cool. There's Rube Goldberg machines and all this stuff that people have come up with. I think it's been the diversity of all those things that's surprised me. No single one of them has made me think, "Oh, I didn't know you could do that." But all of them together? I didn't know we could do that!
Disney Insider: Any tips for players?
JOHN BLACKBURN: What I would do is just start to explore. I think you're going to get more out of this experience if you just let yourself go, and start asking the question, "Can I do this?" And just see where it takes you, because we really tried to make this world completely interactive and very expressive. And when you do that, and you start finding out some of these fun combinations that you can do, it's going to take you someplace you didn't expect to go.
Posted 5 years Ago